Upstage Auditions – Disney's Aladdin and 13
ANNOUNCING AUDITIONS FOR UPSTAGE PRODUCTIONS' PRESENTATIONS OF DISNEY'S ALADDIN AND 13!
Upstage Productions, Inc. will be holding auditions for Disney's Aladdin and 13! on December 18. Performers ages 18 and under are welcomed to audition. If needed, callbacks will be held December 20 – callbacks start promptly at 6:30PM.
Time: 6:00PM sign-in, auditions start promptly at 6:30PM
Location: Columbia Elite Allstars – 300 Fairview Ave, Hudson, NY 12534
Please prepare 32 bars from either a Disney or a contemporary musical and bring a MP3 version of your audition song. There will be no dance auditions.

Show: Disney's Aladdin
Show dates: February 24 & 25, 2018.
When the street urchin, Aladdin, vies for the attention of the beautiful princess, Jasmine, he uses a genie's magic power to become a prince in order to marry her. Iago, Jafar, the Genie and more are here in Disney's Aladdin, a musical adventure filled with magic, mayhem and the power of love.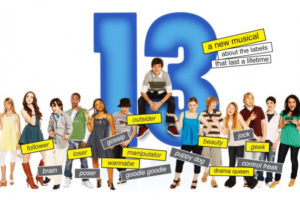 Show: 13!
Show dates: June 1-3, 2018.
Evan Goldman is plucked from his fast-paced, preteen New York City life and plopped into a sleepy Indiana town following his parents divorce. Surrounded by an array of simpleminded middle school students, he needs to establish his place in the popularity pecking order. Can he situate himself on a comfortable link of the food chain… or will he dangle at the end with the outcasts?!?